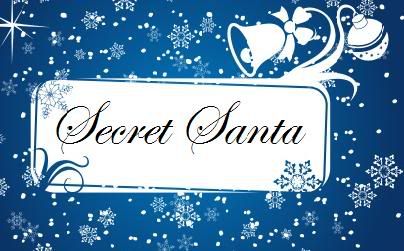 My Secret Santa gift(s) has arrived! Of course I couldn't wait until Christmas to open it, so here's what I got in my package:
EX-MAS by Kate Brian
Two Exes. One holiday adventure.
Merry Ex-Mas?
Seventeen-year-old Lila Beckwith's parents just left for vacation, and Lila's all set to throw the holiday party of the season. But when her Christmas-obsessed little brother, Cooper, discovers that global warming is melting the North Pole, he and his best friend, Tyler, take off on a runaway mission to save Santa.
Lila has to get Cooper safely home before her parents get back on Christmas Eve. But the only person who can help her is Tyler's older brother, Beau -- a.k.a. Lila's musician, anti-everything ex-boyfriend.
It'll take more than a Christmas miracle for Lila and Beau to overcome their differences and find their fugitive brothers. But could a journey destined for disaster help these polar opposites fall in love...all over again?
SHIVER by Maggie Stiefvater
For years, Grace has watched the wolves in the woods behind her house. One yellow-eyed wolf--her wolf--is a chilling presence she can't seem to live without. Meanwhile, Sam has lived two lives: In winter, the frozen woods, the protection of the pack, and the silent company of a fearless girl. In summer, a few precious months of being human . . . until the cold makes him shift back again.
Now, Grace meets a yellow-eyed boy whose familiarity takes her breath away. It's her wolf. It has to be. But as winter nears, Sam must fight to stay human--or risk losing himself, and Grace, forever.
HUSH, HUSH by Becca Fitzpatrick
For Nora Grey, romance was not part of the plan. She's never been particularly attracted to the boys at her school, no matter how much her best friend, Vee, pushes them at her. Not until Patch came along.
With his easy smile and eyes that seem to see inside her, Nora is drawn to him against her better judgment.
But after a series of terrifying encounters, Nora's not sure who to trust. Patch seems to be everywhere she is, and to know more about her than her closest friends. She can't decide whether she should fall into his arms or run and hide. And when she tries to seek some answers, she finds herself near a truth that is way more unsettling than anything Patch makes her feel.
For Nora is right in the middle of an ancient battle between the immortal and those that have fallen - and, when it comes to choosing sides, the wrong choice will cost her life.
Can you imagine how excited and happy I got? Shiver and Hush, Hush are two of the most talked-about and loved novels this year!! I can't wait to read them! And Ex-Mas, could there be a cuter Christmas read?
Thanks
Jennifer
!