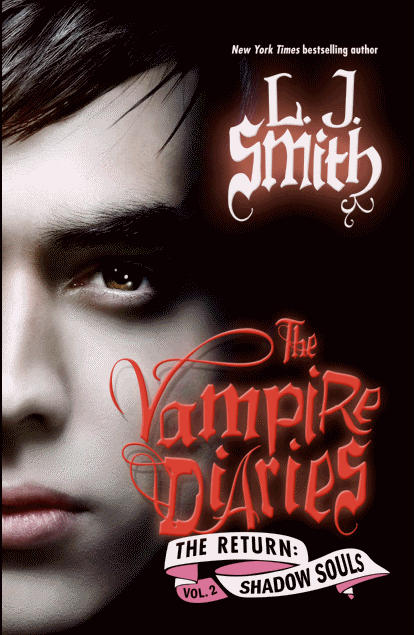 Title
: The Return: Shadow Souls
Series: The Vampire Diaries (Book #6)
Author: L. J. Smith
Published: 2010



On the run . . .





Elena Gilbert's love, the vampire Stefan Salvatore, has been captured and imprisoned by demonic spirits who are wreaking havoc in Fell's Church. While her friends Bonnie and Meredith explore the evil that has taken over their town, Elena goes in search of Stefan.





In order to find him, she entrusts her life to Stefan's brother, Damon Salvatore, the handsome but deadly vampire who wants Elena, body and soul. Along with her childhood friend Matt, they set out for the slums of the Dark Dimension, where Stefan is being held captive. It is rumored to be a world where vampires and demons roam free, but humans must live enslaved to their supernatural masters. . . .





Elena will stop at nothing to free Stefan. Yet with each passing day the tension between Elena and Damon grows, and she is faced with a terrible decision: Which brother does she really want?





Back in Fell's Church, Bonnie and Meredith have made some dire discoveries. They hastily try to follow Elena and warn her—only to be caught up in Elena's most dangerous adventure yet.
My Thoughts:

Shadow Souls is the sixth book in the Vampire Diaries series, and the second book in the "The Return" trilogy. If you are a long time follower you might remember that I absolutely hated the first book in this new trilogy (
Nightfall
). While Shadow Souls is no masterpiece, at least I could finish it without suffering to much! ;)
Truth be told, I thought the first half of the book was pretty good. Who wouldn't want to be a secret passenger in a car with Damon and Elena?
But as soon as they arrived in the underworld, things begun to spin out of control and became weirder and weirder. Kitsungjays, slaves and other supernatural starts to degenerate and the story loosed focus once more.
Even if finding the fox keys was necessary in order to free Stefan, I wish Elena's road to get the keys would have been shorter and straighter. With so many sidetracks and stops, I almost forgot that Elena was in the underworld to free Stefan, not to defend slaves.
And I don't think I was the only one forgetting about Stefan, Elena spent so much caring for Damon that she almost forgot about her boyfriend! Don't get me wrong, Damon was definitely likeable! He started out this series as a dangerous bloodthirsty vampire, but is now gentler and cares about other people than himself. He would do anything to protect Elena an keep her happy. Elena is another person whose character has developed over time. From being a mean, self-centered girl, to a pure and angelic soul, she is now less egocentric and sweeter. She deeply cares for other people, and does anything to help them get a better life.

Rating: 2.25 of 5

Previous Books in this series:
The Awakening
The Struggle
The Fury
Dark Reunion
Nightfall